June went by way too fast.... I can't believe it's already August! School starts Aug 21st for me (teacher meetings start on the 16th). I'm really starting to feel the pressure of my never ending to-do list.
Listening
: I like having something on in the background while I work on my computer. I recently started watching Bones episodes on Netflix. I'm kinda hooked :-)
Loving
: I LOVE SUMMER! Getting to work from home is the best! It's nice to wear pjs and go to the bathroom when I want :-)
Thinking
: Now that it's August it's hitting me how close I am to school starting. I am constantly thinking about the upcoming year. I've spent 5 years teaching 2nd grade and this will be my first year teaching 1st grade. I want to do well, and I've kinda been stressing myself out about it.
Wanting
: I'm a bit of a perfectionist (runs in my family) and I want my classroom to be perfect. Obviously not going to happen, but I drive myself crazy trying, haha!
Needing
: I splurged and bought myself a really nice easel! I'm super excited about it, but I need to finish assembling it. Correction: I need my husband to finish assembling it :-)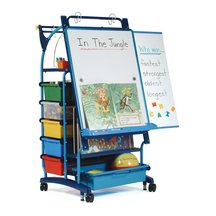 Back to School Must-Haves
: My first couple years teaching I just used regular nametags, laminated them, and taped them to desks. A few years ago I tried plastic nametags from Really Good Stuff and now I always buy them for the new school year. They are way more expensive, but they hold up well and look really nice.
I also need lots of Sharpies and Post-It notes in a variety of colors :-)
And I need a cute outfit for back to school night and the first day of school. It just makes me feel a little more confident and happy. I don't have a picture of this because I still need to find it. I took my niece back to school shopping (she's a lot more fun to shop for), but I need to pick out a couple things for myself on our next girls trip (my mom, sister, and nice and I go shopping when the boys go fishing).
Happy August!
Don't forget to link up with Farley!